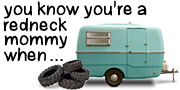 I'm posting on a Friday night in honor of Tanis, better known as The Redneck Mommy, Grand Dame (Dame, long 'a' - we're not fancy here) of the Great White North. Tanis and her family recently (actually hours ago) welcomed a "soon to be blog dubbed" little boy to their home. So, go here and let everyone know about your inner redneck - you know we're all a little trashy now and then, just admit it.

My contribution to the "you know you're a redneck mommy daddy when...":

Dipping a child's binky in Jack Daniels is considered sterilizing.

Your wheelbarrow doubles as a stroller.

Skoal is just as good as Anbesol.

Your child's car seat has its own gun rack.

You've actually considered just wiping the poop out of a dirty diaper because you had no others.

All the best to Redneck Mommy and her brood.